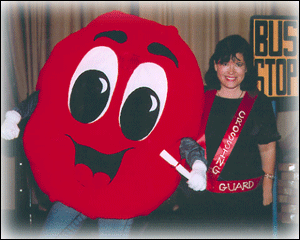 Janis Rafael is a graduate of the University of Maryland and has a Bachelor of Science degree in special education. She has done extensive research on safety and has developed a comprehensive program to help children have a better understanding of the nature of risk and what it means to be careful. From her research she has discovered there is a gap in knowledge between the ages of 6 and 12 years old. Children are taught to use their helmets and call 911 in an emergency but have very little training on how to identify serious risks in their environment, or what they can do to avoid them. Her program is aimed at filling the gap by taking a proactive approach which helps children understand the root causes of accidents. This program also emphasizes assertiveness training to encourage children to find answers to questions that will enable them to make safer choices. Her gaol is to help children distinguish between risks that are worth taking and those that have the potential for tragedy. She believes that the more information we share with our youth, the safer our society will be since they will be basing their decisions on genuine understanding, not ignorance. In her opinion, it isn't knowledge that can harm our young, it is the lack of it. We cannot afford leaving to chance crucial safety information that our children must have in order make informed choices. The price may be far too high.
     Discussions on ethics and the moral imperative never to carelessly hurt another human being are an integral part of her program. She believes this is a necessary ingredient which has been missing in many safety programs today. Without these discussions children will continue to put emphasis on the legality, not  the morality, of thier behavior. They may have difficulty understanding their moral obligation never to take chances that could hurt others. Young people often think only in terms of whether there is a risk to themselves. In her program she hopes to address this issue as well as the many factors that often lead children down a negative path of irresponsibility.
     Mrs. Rafael has four children, and resides with her family in Baltimore, Maryland.