COME HERE, LITTLE DOGGY
When you see a strange animal that you REALLY do not
know, 
Be CAREFUL WHILE petting it; it could BITE
your finger or toe.
Always approach this animal…VERY VERY SLOW…
and talk to it gently as you SOFTLY say hello.
Don't EVER take a chance and put your face
too close to his…
He could suddenly become STARTLED…and BITE
you in a whiz.
You must look for LITTLE signs that he may NOT 
want you around…A snarl or a tail tucked in, or
even an ANGRY SOUND (GRrrrrrrrrrrrr)!
So please be VERY CAREFUL when an animal 
walks up to YOU…
And you'll prevent a NASTY bite, cause you knew
JUST WHAT TO DO!
URGENT MESSAGE FROM MR. SEE-MORE SAFETY:
NEVER approach a wild or stray animal even if it looks friendly.  Wild animals are known to carry rabies and if they bite you, you may need to go through a series of shots to make sure rabies does not pass on to you.  Animals that you do not know can be unpredictable, so remember to ALWAYS keep your distance to avoid getting bitten.
[Click on Image to Enlarge or Click Here to Download PDF Version]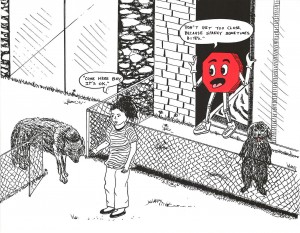 [Click on Image to Enlarge or Click Here to Download PDF Version]