THE BOUNCING BALL
HEY GUYS AND GALS, I hope you call…can…see…
that acting on impulse is as DANGEROUS as can be.
You gotta HOLD…BACK before you go for that ball…
if it goes in the street…you gotta check…THAT'S ALL!
But ALWAYS…REMEMBER…that just before you go,
you gotta LOOK…BOTH…WAYS…then
GO SAFELY GO!
You need to ALWAYS …REMEMBER…that just before
you go, you gotta LOOK…BOTH…WAYS…then
GO SAFELY GO!
URGENT MESSAGE FROM MR. SEE-MORE SAFETY:
Running into the street without checking first is extremely dangerous and is called "acting on impulse." In order to prevent yourself from acting impulsively, it is important to notice the feeling that occurs right before you make a sudden move.  As you become familiar  with this feeling, you will be able to stop yourself in just enough time to carefully check for danger first.  Training yourself never to act on impulse — especially in a situation where a ball you are chasing rolls into the street — may help prevent a serious accident.  This is a skill that requires practice in a safe environment.  Once you acquire it, it will help to protect you in a real life situation.  Don't ever put yourself in a dangerous position — on purpose — in order to test your ability!
[Click on Image to Enlarge or Click Here to Download PDF Version]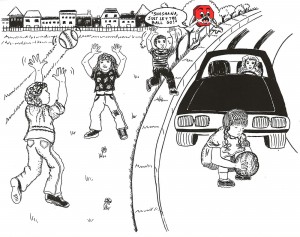 [Click on Image to Enlarge or Click Here to Download PDF Version]